At the Magpie Centre we offer equestrian activities to all age groups and, wherever possible, to people with any disability.​
We are based at Wallington Hall, a tranquil, private estate near Downham Market, West Norfolk.
The RDA National organisation of which RDA is a member is committed to researching and measuring the impact of our activities. This means that our supporters and funders can give with confidence; our volunteers and coaches can understand the difference that they make and most importantly our participants know that they are getting the best possible experience with us.
Our riders experience lessons in our Indoor School and weather permitting, hacks round the private farm tracks allowing them time to enjoy the peaceful country environment.
Our goal is to give each rider, whatever their ability, the opportunity to be in control of their pony within a supportive and structured environment and perhaps most importantly to have fun.
RDA research shows that riding with RDA delivers physical benefits, boosts confidence, improves communication skills and helps build relationships. Riding therapy provides participants with many physical and fitness gains, including improved range of motion, balance, posture and hand-eye coordination. Additionally horseback riding strengthens the core of the rider by requiring them to engage with the horse and move in unison with them.
For more details about our riding lessons please email us on magpiecentrewnrda@hotmail.co.uk
Alternatively you can complete and submit a rider application form.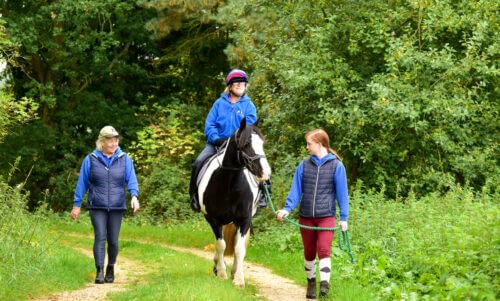 Equine Assisted Learning and Therapy
Equine Assisted Learning and Therapy is a programme encouraging interaction between horse and people to promote mental well being.
Equine therapy can help to build:
Motivation
Empathy
Problem Solving
Assertiveness
Self Confidence
Trust and respect in yourself and others
Communication and Social Skills
Our tailor made six week courses are designed to meet the needs of individuals or groups and are run by fully qualified accredited staff at our Wallington Hall base in the stunning Norfolk Countryside.
Equine Assisted Learning and Therapy can help us to learn how to confront fears and communicate them safely without judgement. Discover your inner empathy, and learn about impulse control. Solve problems and learn to trust in yourself and others through relationships you can build with the horse.
For further information please email us magpiecentrewnrda@hotmail.co.uk
Carriage Driving is particularly useful for people who are unable to ride due to their disability or prefer a different kind of challenge.
Many of the benefits of riding are also relevant to carriage driving; it helps to improve coordination and balance and gives the disabled driver a wonderful sense of freedom being out in the open air with a pony.
The ponies used are all assessed for safety and suitability, as are the instructors who sit beside them in the carriage with a second set of reins so that they can give assistance where needed.
The carriages are especially designed to carry wheelchairs if required and every time a disabled driver is taken out they can be accompanied by their carer if appropriate. All drives out are supported by accompanying volunteers who are able to provide additional assistance if required.
Drivers can progress in the same way as the riders, many, due to their disability, just go for pleasure drives around the countryside and if they are unable to hold the reins the RDA Whip sitting beside them will do the driving. Often it is the only time these participants are able to go out in the open air.
For more details about carriage driving please email magpiecentrewnrda@hotmail.co.uk
Alternatively you can complete and submit an application form.
Tea with a pony offers those living with any health and mobility difficulties the opportunity to meet, stroke and spend time with our fantastic ponies.
Sessions last for approximately one hour, groups of up to 30 can be catered for and participants are invited to:
Meet and greet one of our special ponies with time to stroke and get to know them
Have a cup of tea/coffee and the opportunity to chat
Stimulate the senses with a gentle walk or wheelchair ride through our sensory garden, full of lovely fragrant flowers, plants and interactive features
Full Wheelchair access available
Reduced rates for accompanying carers and/or additional family members
Sessions are run Wednesday from 2pm to 3pm, subject to weather and operational conditions. Season starts Weds 20th April.
Bookings are essential.
For more details please email us on magpiecentrewnrda@hotmail.co.uk
You can also complete our online booking form here
Timetable of Regular Activities
| Day | Riding Sessions | Carriage Driving |
| --- | --- | --- |
| Monday | 9am-3.30pm | – |
| Tuesday | 9am-7.00pm | 12 noon-3.00pm |
| Wednesday | 10am-6.30pm | 11.30am-2.30pm |
| Thursday | 9am-3.30pm | – |
| Friday | 9am-1.00pm | – |
Last updated November 2021